Design tips for edgy, Gothic-inspired engagement rings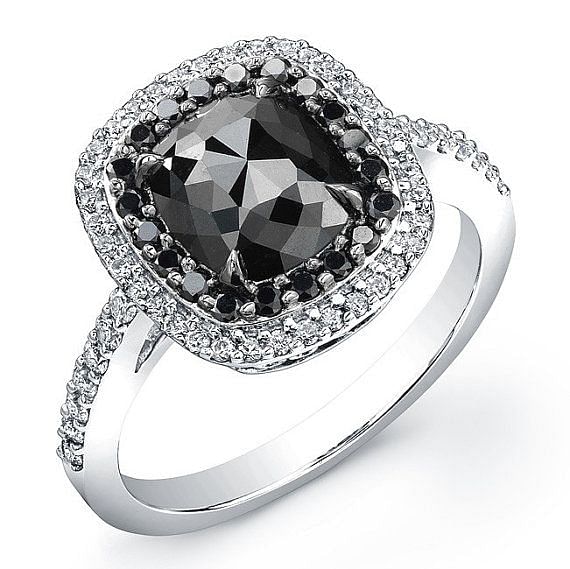 In this post, we will be looking at tailoring a custom engagement ring to give it either a very Gothic design or a hint of 'edginess'. If you'd prefer to just view lots of examples of the style and start designing your own, view our Gothic rings gallery here. There are many design tips for creating a different, slightly darker engagement ring, if that is more your style! Think, engagement rings for rockers, punks or even just the less 'girly' of us out there! We have a lot of clients who fit the 'alternative' engagement ring bracket, from extreme to subtle…. so, lets look at how to add a touch of 'edge'.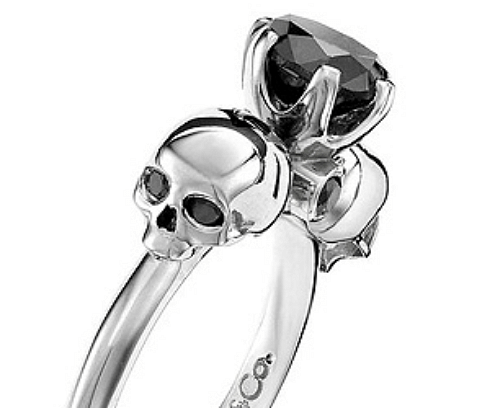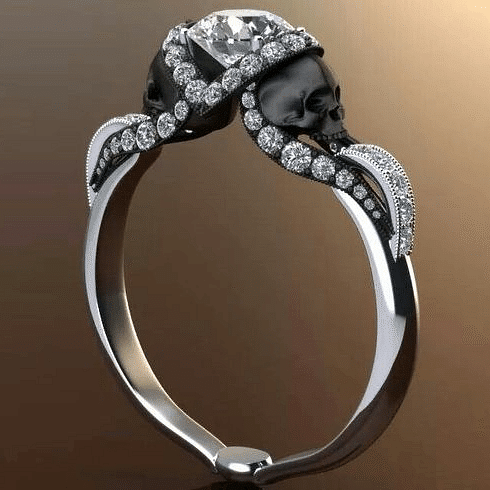 Skull engagement rings
One of the first design elements we can use to create a Gothic engagement ring would be the trusty skull. Now, most skulls featured in Gothic jewellery are human style skulls, but don't forget, you can use animal skulls too – some of which can be quite beautiful. If you are after a 'no holes barred' dark engagement ring, then you may want to feature skulls prominently, like the example images above. However, that's not all we can do with skulls. If you want to feature this edgier design element in your ring but don't want it to be too obvious, you can pull the skulls under the stones or incorporate them into the setting, so they are there, but not centre stage. Another design option is to consider black rhodium plating the skulls or giving them an alternative look, such as bead blast or matte finishing.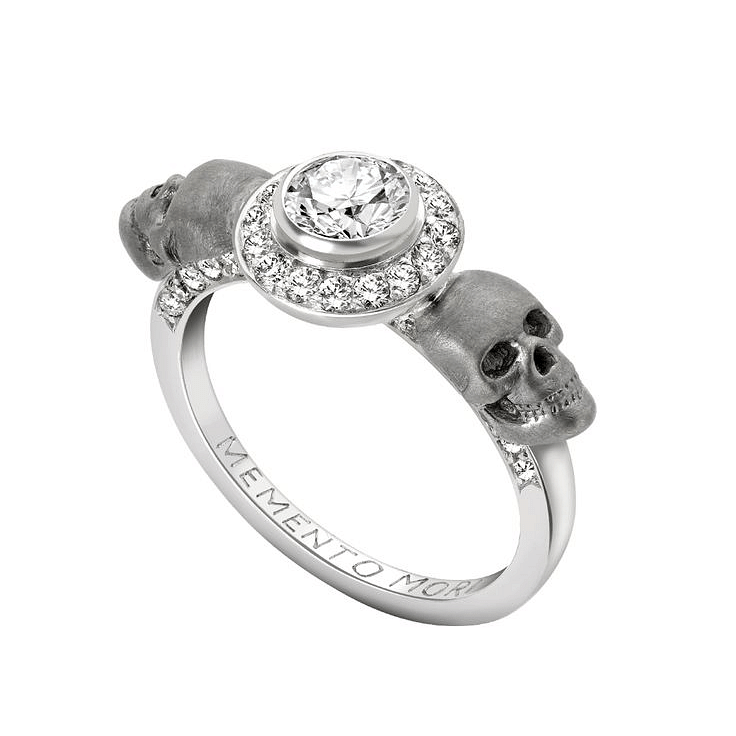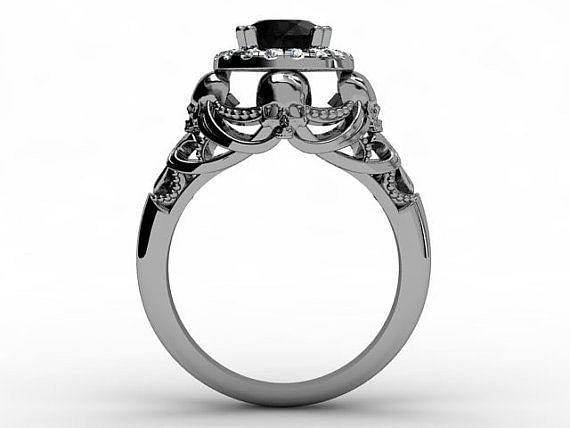 Engagement ring colours
Other design options available to us include the use of colour in rings. This can be metal colour and stone colour. One of the fastest ways to 'edge up' a ring design is to incorporate black diamonds, grey diamonds and mixed metal choices. For example, platinum with textured black rhodium accents has a distinctly rock chic engagement ring vibe! If you want to start piling on the Gothic undertones, you can also add dark red centre stones, such as garnet or rubies. All of these features can be used together for a strong alternative ring or individual elements can be cherry picked to keep it subtle. Black rhodium can be both textured or polished, so you can play with design aesthetics here simply with just metal choices. Rose gold and black diamonds can create more of a 'Gothic romance' engagement ring style, or you can use white diamonds with skull designs for a more traditional engagement ring that has that alternative undertone!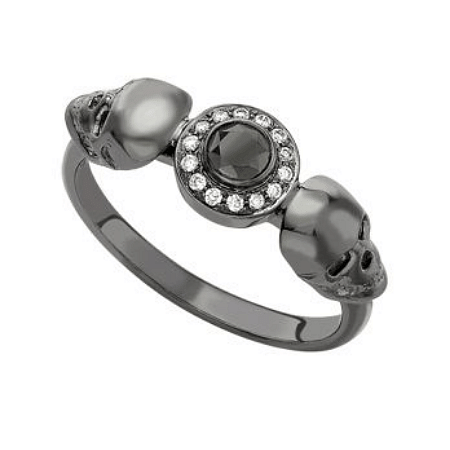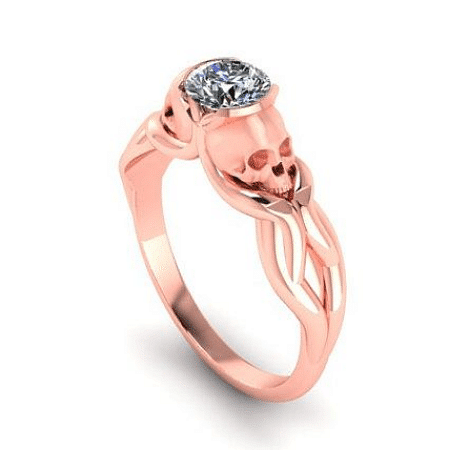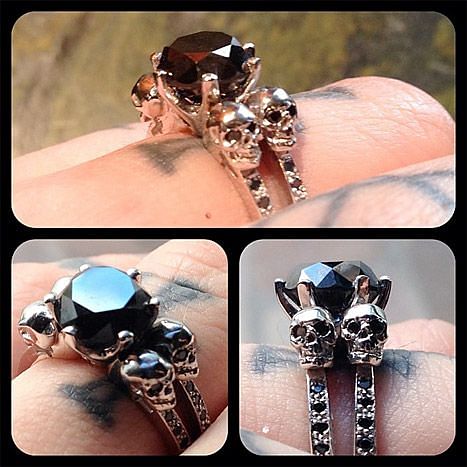 The above pictured Kat Von D engagement ring, which uses a split shank style skull accent engagement ring with a black diamonds. These skulls could be smaller, pushed further back under a higher set stone or even flared out slightly to create a more exaggerated split shank design. There are lots of options in bespoke designing your own ring.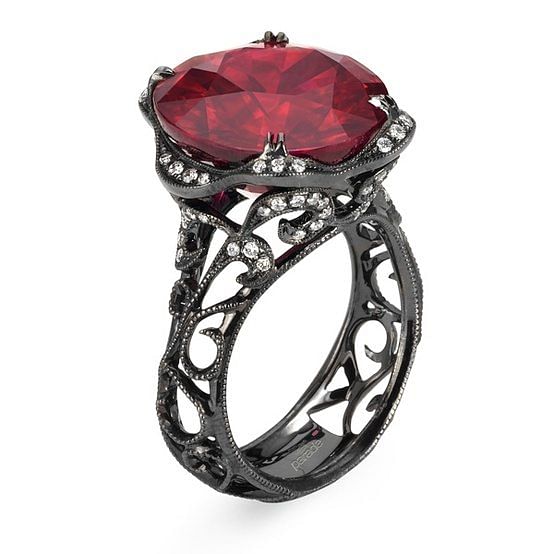 Vine and fretwork engagement rings
Yet another design element that can add a touch of darkness to a ring is the use of vine work. Especially when the scroll patterns finish in points, this is quite integral  for capturing a 'dark forest' engagement ring look – and can be completely feminine or opulently edgy, depending on how you use it!
The above example shows how simple scroll-work, framed with black diamonds completely changes the look of a ring – imagine if they were yellow diamonds….
Equally, the rings below show simple stacking wedding bands using small thorny accents, which gives an overall edgy ring look.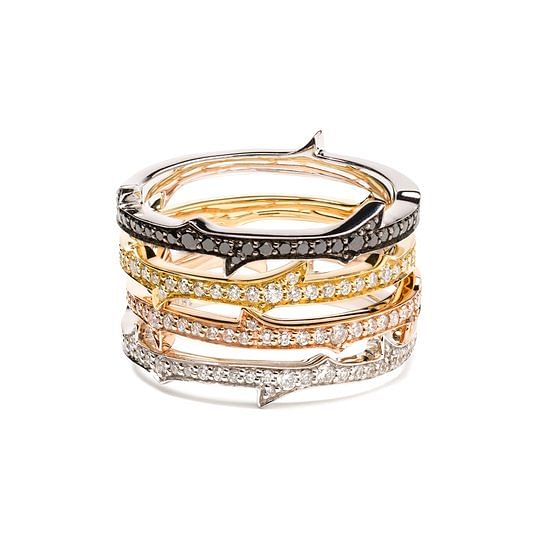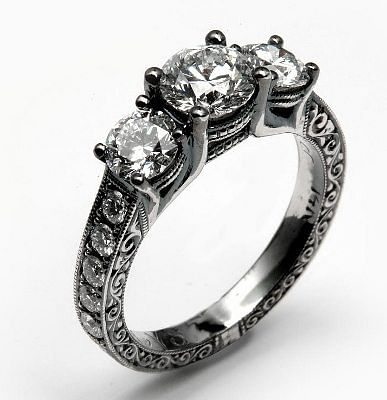 Gothic romance rings
The ring shown above and below show how the use of pattern, almost Edwardian in style, combined with darker metal choices or black diamonds can give an edgy engagement ring look.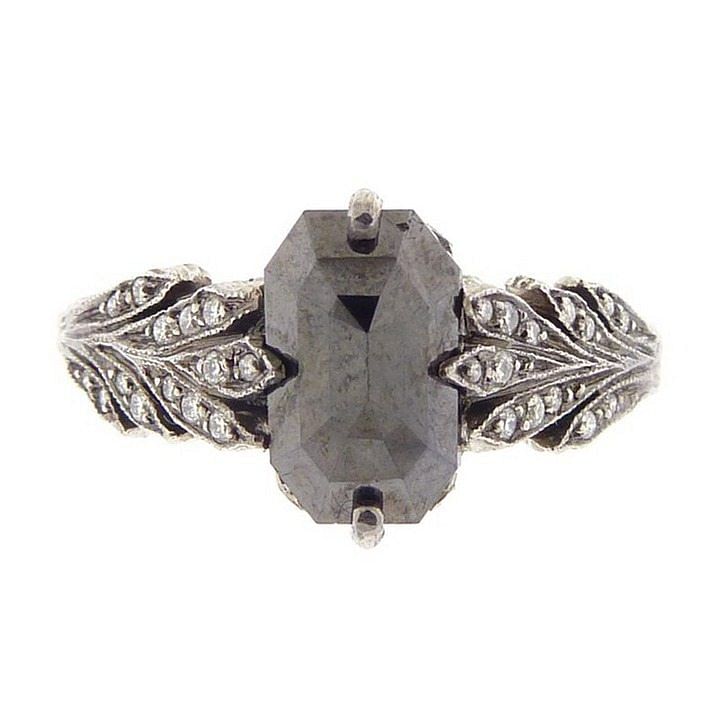 Imagine four taloned prongs on this ring above, it would look fabulous!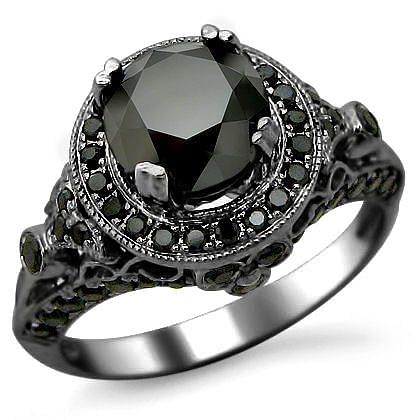 Traditional engagement ring styles with an edge
Here we can look at how you can actually use very traditional engagement ring styles, but just by altering the centre or accent stones, create a completely alternative look. Above you can see a halo style ring that has used black diamonds and black rhodium plating to create a dark engagement ring. Below, a thin band micro pave style ring has been used with a chequered cut princess black diamond and taloned prongs, which I'm coming onto shortly!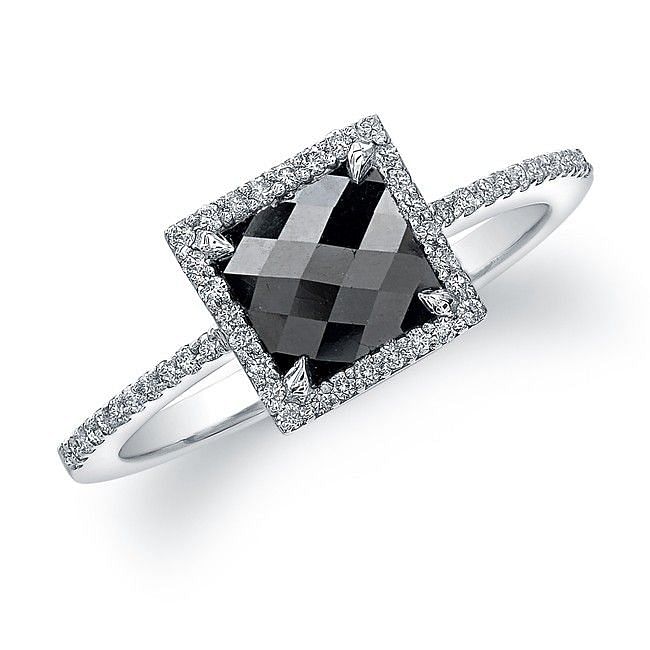 Use of prongs to create modern engagement ring styles
Many people may not consider the prongs within a ring design, but this humble little necessity can actually radically alter the look of an engagement ring.
In some cases, the prong will be a little prong, such as in micro setting and small accent pave or channel work. However, for centre stone or larger accent stones the use of talon prongs can completely alter the look of a design. Talon prongs can be fairly subtle, as in the square black diamond halo ring shown above, or they can be a complete game changer, as in the example below. Utilising talon prongs invites an edgy look effortlessly.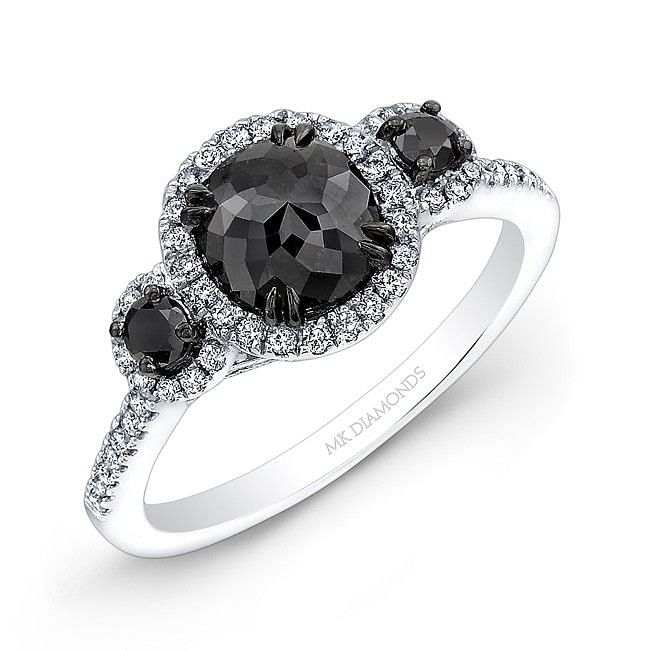 If you look at the straight forward sapphire halo ring example below, you can see how a very similar design alters, just from sharpening the centre stone prongs. The middle image shows traditional round prongs and displays how this creates a soft traditional and somewhat floral or pretty look. When you form those same prongs into talon prongs you instantly create a different look, an 'edgier' engagement ring. That's just by changing the prongs, now imagine using double talon prongs, or black tip rhodium plating them, or using grey halo diamonds – you can see how with these subtle design choices, you can start to hugely impact the feeling of this simple ring!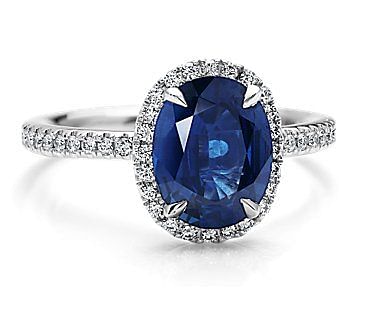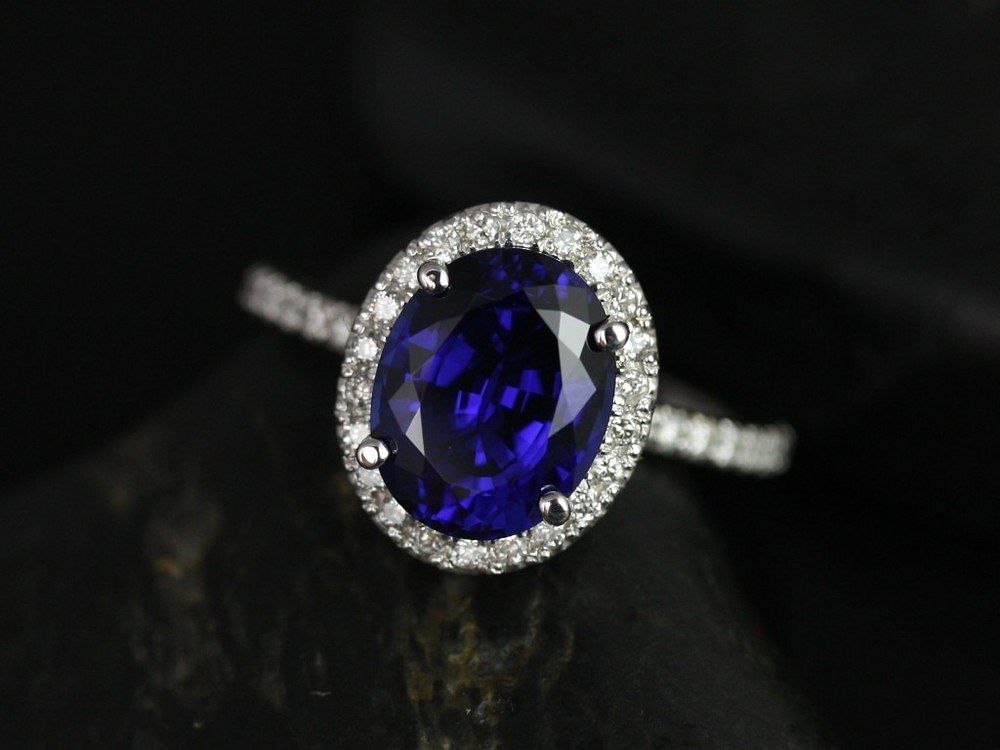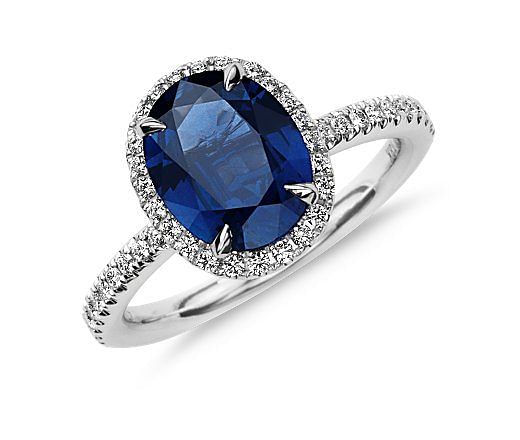 Colour and shape together
In the ring example below – which is one half of a ring wrap – imagine mirroring this with a black diamond in the centre! The triangle shaped accent stones have a similar effect to the talon prongs – a 'sharpening' look. Now, with this particular ring, the colours would also lend themselves to a Gothic romance feel by using the ruby and gold tones along with the edgy stone shapes, it creates a completely unique alternative engagement ring look – and with a black diamond in the centre, this would sit quite happily on Kat Von D's finger too!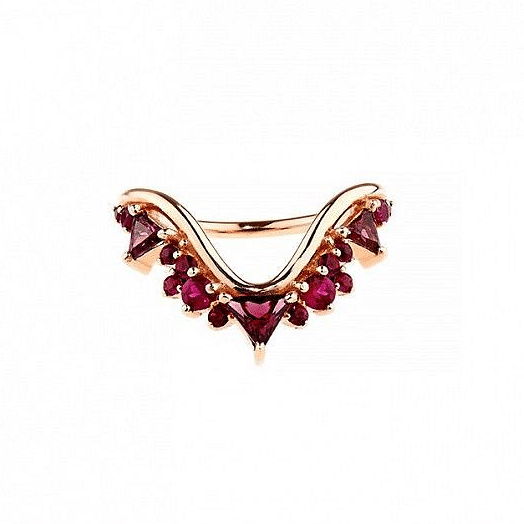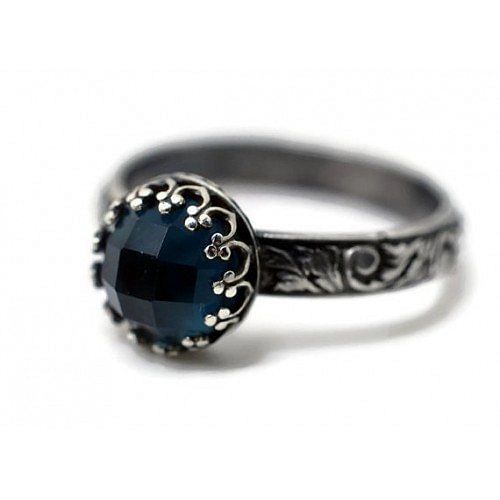 Another way of adding an almost vintage Gothic feel to a ring is the use of galleries and stone head designs. Above you can see a simple bezel/gallery set stone, this sort of elaborate gallery bezel design can be used to great effect to give a Gothic style to an alternative ring design.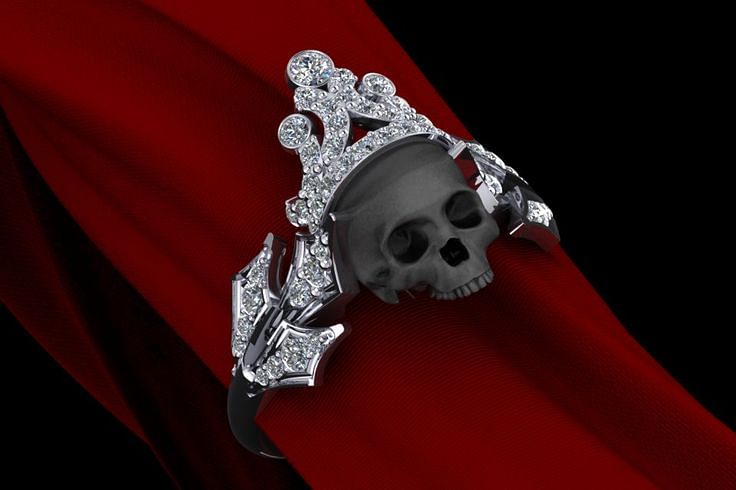 Final thoughts on alternative engagement ring tips
As always, we bring to your attention the wedding band! Don't forget that there will be a wedding band next to this delicious and sexy engagement ring! In the example image above, you would be forced to consider a curved band that can only be worn on one side of the ring – it can be done and we can usually find a way to make these work, but it is surprising how many people forget to consider this final element of an engagement and wedding ring bespoke design set!
Gallery of some past rings created.
Don't forget you can view lots of examples of gothic style jewellery and start designing your own, by viewing our Gothic rings inspiration page here.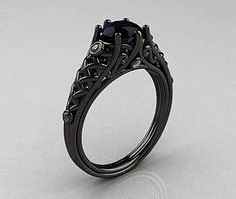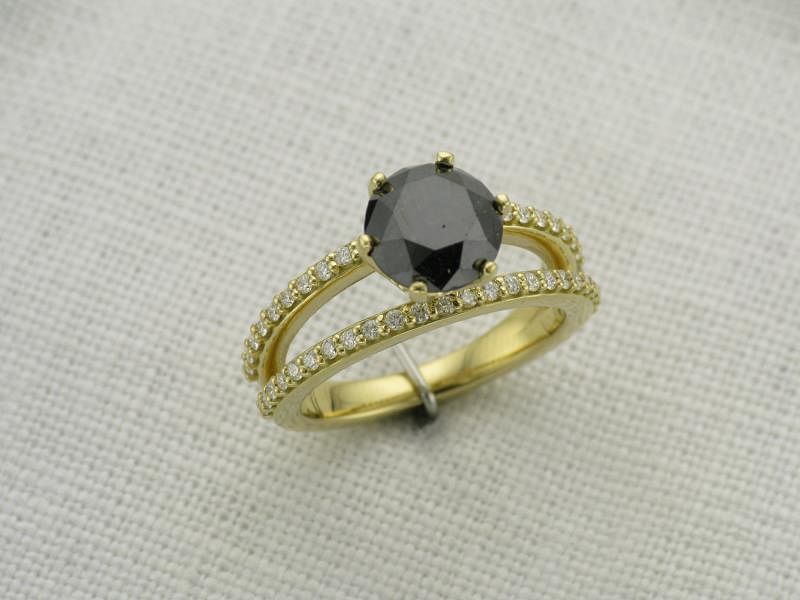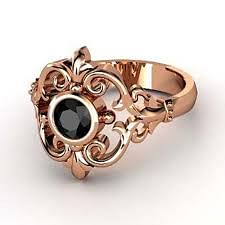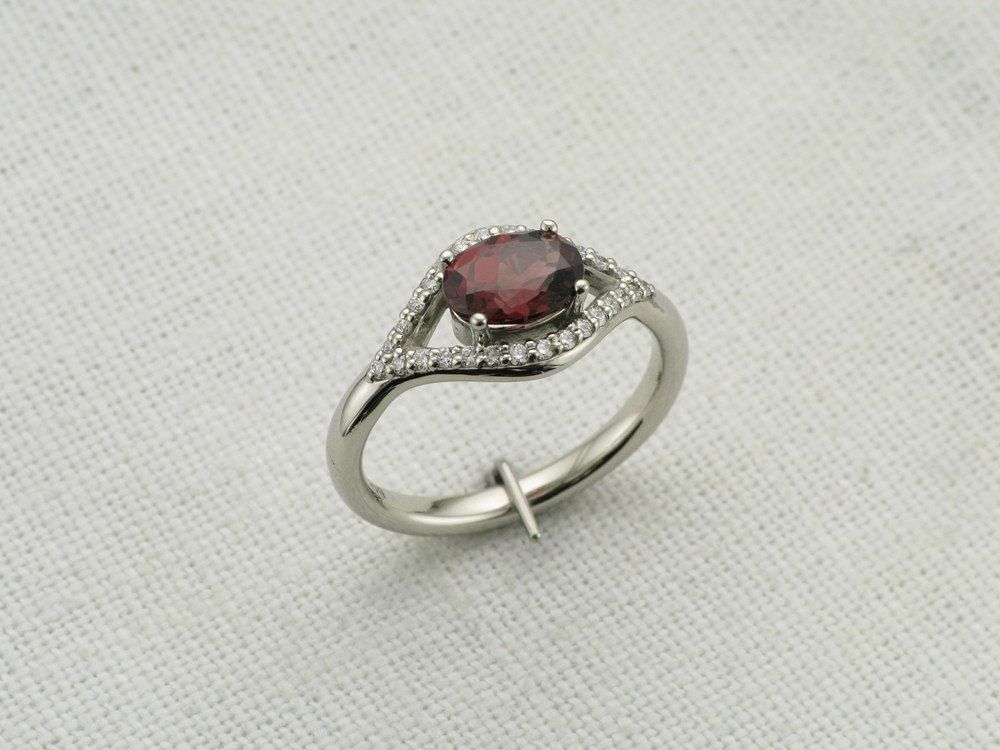 CREDITS:
– Glamour
Save